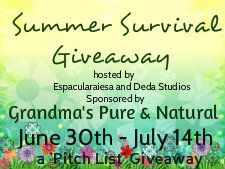 A few days ago I posted my review of GRANDMA'S Pure & Natural Soaps. These are amazing soaps made with all natural ingredients! Best yet, this soap can help you survive the summer and here's how!
Jewelweed grows wild in close proximity to poison ivy throughout much of the United States. For centuries native American peoples have used Jewelweed (Impatiens Capensis) as a natural preventative and treatment for the itch and rashes of poison ivy, oak and sumac. GRANDMA'S now brings this powerful natural remedy to you! Relieves the itch of poison almost immediately and heals the rash in 3-4 days!
GRANDMA'S Don't Bug Me Bar is a natural solution to an annoying little critter - the mosquito! Using a special formula of essential oils GRANDMA'S Don't Bug Me Bar repels mosquitoes effectively without the use of DEET or other chemicals. Pleasant smell. Won't stain clothing.
One lucky winner at Eight Days a Week will win a GRANDMA'S Don't Bug Me Bar and a Poison Ivy & Oak Bar! You'll be set for the summer!
BUT! You can also enter on 19 other blogs for a total of 20 chances to WIN!
Each individual may only win ONE giveaway. In the case of duplicate winners a second winner will be drawn.
Use the Rafflecopter form to enter, and visit the blogs in the following list to enter the other giveaways!
GOOD LUCK!
a Rafflecopter giveaway