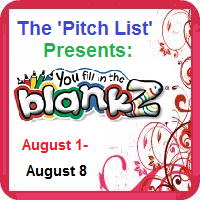 I first saw Blankz a while ago on another blog and I have to say my first impression was how cute! What a great idea!
Blankz are little stuffed animals that your kids can color! Each doll comes with a set of special markers. Afterwards you can wash it and start all over again with a blank "canvas"! I love the concept, and so did Miss M. She was so excited about the little pig when it came in the mail. So excited in fact that when her brother picked it up she had a total meltdown. That is HER pig. Get it straight.
Miss M is all about the markers right now and was so eager to get started. She colored away for a good twenty minutes before deciding she was done. It was a great opportunity to talk to her about colors and body parts on the pig. "Is that his head? Are you coloring it blue? What color are his feet?"
Look at that busy face. I love when an activity captivates her.
The colors washed out really well and I can't wait to try it again! It's such a cool way for Miss M to have her own personalized toy.
You can buy one from The Blankz website for only $14.99! There are seven adorable dolls to choose from! I can't wait to get the elephant (Ele-Faint) for Miss M, that's her favorite animal.
The giveaway opens August 1st! So be sure to come back and enter!
This is going to be a great giveaway! One Blankz will be given away every day for seven days! SEVEN WINNERS! I love when there's more than one winner ;)
Use the linky to hop around to see other reviews from other great bloggers! Enter the giveaway using the Rafflecopter widget below! Good luck!
This giveaway was brought to you by the lovely ladies at the Pitch List. If you're a sponsor looking for a great way to get your product out there drop me a line via the "contact me" tab at the top of the page!
a Rafflecopter giveaway