I am so excited to tell you about this awesome product I received to review! It's called Conscious Box and it's an environmentally friendly care package that is delivered straight to your door. The box, and all it contains, is natural, 100% recyclable and eco-conscious!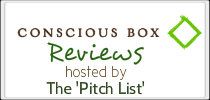 I received the July box to review and let me tell you, each item I pulled out was better than the last. I couldn't believe some of the things that were included, things that I'd never even heard of before and now I'm actively Googling because I want to know more about them!
Want an example? The July box contained a dietary supplement called PowBab, a superfruit chew that has more antioxidants than acai berries and delivers 100% Vitamin C, Vitamin E, and 10% Vitamin A. And the best part?

It was delicious!

COOL!
Or how about tea that comes in sustainable packaging that

contains no glue or staples

? Oh, and it tastes amazing!
There was even something for Mr. Eight! Sun Warrior protein mixture. Just pour the packet into juice, milk, water or your beverage of choice to get that extra protein boost! Love it!
Conscious Box is all about interacting with their customers. Post on their Facebook page and you can get an extra bonus item in your next box! (This months bonus item was the PowBab chew. So glad I got that!)
Let me give you a run down of everything that came in the box: A sweet postcard with a picture of bamboo, vegan eye shadow, Mighty Leaf iced tea, Just Great Stuff Superberry Acai bar, Tea forte green tea

(it's good for the skin!)

, agave nectar from Madhava natural sweeteners, St. Claire's Organics Peppermints, Pure Essential Oil (Sweet Orange) and Aromatherapy Deck from Aura Cacia, Muscle and Joint Therapeutic Cream from Jadience Herbal Formulas

(I think I'm going to send this to my mom)

, GoGo Squeez Apple Mango

(Mr. C destroyed this in seconds!)

, floor cleaning soap from Naturally It's Clean (contains no toxins, phosphates, etc.).
Can you believe that all came in one little box?? Oh, and did I mention that the box is reusable? It comes with a little window cut out and a card with suggestions on how you can use it. Come up with your own ideas and share it with Conscious Box on Facebook!
Next month will be the

August 'Back to School' Conscious Box

! It's going to have

delicious, nutritious snacks, some great daily alternatives

, and tons of other really fun stuff that everyone will enjoy, making it an AWESOME gift for all students, including K-12 and college. And yes, it's

great for students
and
non students alike

, so you can gift it to anyone! Just remember, you've got to order before the 6th of the month!

This is the only legitimately healthy care package we've seen this year

, and they're going fast!
So you want one right?!
Like them on Facebook and enter to win a box! Click on the "Win a Free Box" tab OR order one from their site, one box a month is only $12 + shipping!
Follow Conscious Box on Twitter and Pinterest too! You don't want to miss a thing!