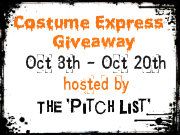 Halloween is coming and everyone is scrambling for costumes! I got really lucky this year and was able to review not just one, but
TWO costumes
! Woohoo! Thanks Costume Express for making my Halloween :) If you're looking for a place online to purchase a costume I definitely recommend Costume Express. Right now they are even offering free exchanges, and they'll pay the cost of shipping!
Halloween is a great time for stocking up on dress up clothes for your kids. I love shopping the clearance sections for fun outfits and accessories. Miss M and Mr. C are both really into dress up play right now and it's lots of fun!
I got this cute little
Diva outfit
for Miss M from the clearance section.
It's only $9.99!
I couldn't believe it. They have a ton of costumes for under $10 on their site so check it out!
This is a Child's costume, a size Small, not a Toddler costume, so I expected it to be a little big and I was right. I used a safety pin to pin the skirt and the shorts in the back. I only needed one and it fit just fine afterwards so I'm happy! The top, however, fit just fine, which tells me it's going to be too small on a bigger kid. Miss M wears a 3T right now and the top fit her perfectly, so keep that in mind when shopping.
For myself I picked out a Flapper dress. I wore a cheap Flapper dress from K-Mart last year and let me tell you, this one is much better quality for about the same price! This dress is on sale right now for $32.99 and I think it's a really fair price for the quality of the material. The dress itself is 100% polyester, so it has a nice feel to it and flows nicely. The fringe is sewn on well and even the sequins didn't feel cheaply made. Overall I was really impressed with the quality. (You can thank Mr. Eight for the awesome photography... NOT!)
The dress did run a little big though. I ordered a large (12/14) which is the size I normally wear. I also have a large cup size (G), so I tend to order big just in case. In this case it turned out to be a little too big, the dress is very wide, I've actually folded the material and pinned it under the arms in the picture and it's still really big. I plan on trying to alter it down the sides.
Even though the costume ran large I was still really impressed with the quality of the fabric. Plus, with the Free Exchange offer from Costume Express if you ran into this problem it should be easy to get a different size!
There are 2 prizes being given away here! Yippee! I love when there's more than one winner :D
First Prize: $100 gift code
Second Prize: $50 gift code
This is a Pitch List Giveaway!
a Rafflecopter giveaway