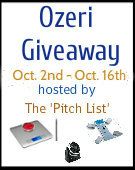 Thanks to Moderna Housewares and Ozeri I had a chance to review the
4x3sport Digital Pocket 3D Pedometer.
This thing is awesome! It features Tri-Axis techonology (sounds fancy, huh?) that measures your movement on an X, Y and Z-axis, to get the most accurate reading.

Here's a rundown of what it can do:
Records steps taken (including stairs), calories burned, and the length of time you exercised
Allows you to make goals so you'll push yourself even farther
It's superior accuracy means it doesn't miss any steps!
Counts up to 1 million steps, as well as remembering your previous steps taken for up to 30 days!
If me telling you how great this pedometer is isn't enough, consider that it's used by professional 100 mile ultra runners like Evan Kimber!
You can check out other reviews by Pitch List Members by hopping around the linky below!
There will be two prizes given away of Ozeri products!
Prize #1: Ozeri Green Earth Wok, Pepper Grinder, and Kitchen Scale
Prize #2: Desk Fan, Pedometer, and Bathroom Scale
a Rafflecopter giveaway