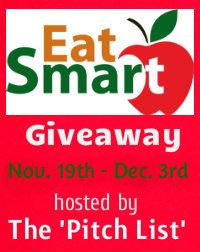 I have a great giveaway for you! You know why it's great? Because the holidays are coming! That means lots of eating, not a lot of exercising, followed by lots of guilt, tight waist bands and then finally.... resolutions!
Let's all get a head start this year by making good choices now, so the road to trim waists will be easier in a couple months!
(I fully expect to eat these words along with several slices of pie in a couple days ;) )
But! At least when I'm done stuffing myself with turkey and pie I'll know how much I gained ;)
The EatSmart Precision Tracker Digital Bathroom Scale is sleek, easy to set up, and easy to use. The scale actually tracks your weight, to help you know how you're doing.

BUT, the cool thing is that not only does it track your weight, but it actually does the math for you!

Stand on the scale and it will show you your weight, then it will show you your weight from last time as well as the difference! Cool!
I was really impressed with the EatSmart scale. I actually set it up while I was waiting for my shower to heat up, that's how little time it took. It even came with batteries! No screwdrivers needed, nice and easy set up. The instructions are easy to read and the scale is satisfaction guaranteed!
If you're looking for a nice quality bathroom scale for your home then this is it!
Enter to win one using the Rafflecopter below!
I love when there's more than one winner ;)
Giveaway ends Dec 3rd. Good luck!
a Rafflecopter giveaway