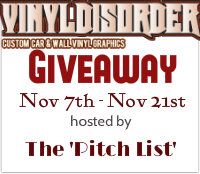 As you may have read in other posts we recently moved into a new house! We're living in military housing though and painting can be a PITA! Unless we use approved colors we have to repaint before we leave. It just isn't worth it when we'll only be here for 2 more years.
Wall vinyls are a great option for those who can't paint! They are applied and removed easily and are way less messy than paint!
Vinyl Disorder is a great place to find quality vinyls at affordable prices. The vinyl I reviewed is on sale right now for just $10! For the quality of the vinyl I would say that is definitely a steal!
I chose this Pirate quote for Mr. C's room. I'm working on putting together a nice pirate theme for him! There is a cool pirate ship that is also available at Vinyl Disorder that I'm going to order as well!
The color and size were exactly what I was expecting.

The vinyl also came with an applicator, a really big thick card you use to rub the vinyl on before peeling off the backing. It had an easy grip and saved me cracking a nail using a credit card like I've done before!
It only took me about 5 minutes to put the whole thing on and it turned out great!
If you're looking for an affordable option for decorating then look no further. Vinyl Disorder offers wall quotes, images, you can customize your own vinyl, and they also sell apparel! These vinyls can also be made for your car, so there are plenty of options here!
Win a vinyl of your choice! Enter below using the Rafflecopter widget. The winner will get to pick a vinyl of their choosing, including color and size! Good luck! You can also hop around the linky to see what other Pitch List members received to review and how they liked it! Everyone appreciates a second opinion :)
a Rafflecopter giveaway