The kids and I are heading back to my home state of Alaska in 9 days! I'm super excited to see family and friends, and to ditch my kids with the grandparents ;)
That's actually what it looks like :)
It's been 3 years since the last time I was home. Miss M was 9 months old, and I think I was pregnant with Mr. C but I just didn't know it yet. So of course my family who hasn't had a chance to visit us here in Hawaii are very excited to meet him.
We'll be staying for a whole month, the longest I'll have been home since leaving for basic training back in 2007. Wow! Those six years really seemed to fly by. It was six years exactly on the 4th of July this month, and I can't believe it!
Going home, of course, means seeing friends I haven't seen in ages, and I want to look good! So this month I've really been trying to focus on working out and ditching the junk food.
Have I been successful you ask? Err...
Hey, at least I'm trying!
Here's a look at what I've been doing to tone up and drop a couple pounds before we leave.
Back in April I posted about Mark Lauren's Body by You workout plan. I had a lot of success with it but totally dropped the ball after Mr. Eight began having gall bladder attacks and eventually was admitted to the hospital to have it removed. What a nightmare.
This month, when I was ready to pick the ball back up again, I decided to just go with the more difficult workout plan featured in his first book, You Are Your Own Gym. I actually just follow the workouts on the app, which I love!
Check out the app, it's available on Android and iPhone. The app is completely free and even comes with a free video pack of Mark Lauren performing each exercise with descriptions on how to do them. FREE!
I'm not sure if I've made any progress on the scale, or even with the measuring tape, but I do know that

I feel stronger and better about myself

. That's what's important right?
I noticed this week that my core is really weak

(I'm blaming the kids)

, and that's seriously got to change. I saw this article from FitSugar in my BlogLovin' feed today and I think I'm going to add it in a few days a week!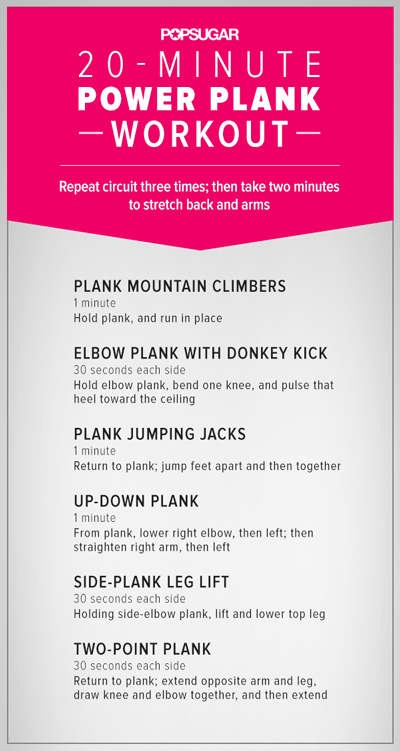 Looks pretty killer.
Have you been working out this month? Need some inspiration? Either way, let me know, I want to hear about it!