This is one of those projects that's been sitting around my house waiting to be finished. I began it months ago, set it down, and didn't pick it up again. It's been sitting in the living room collecting dust for ages. I'm surprised my kids haven't destroyed it now that I think of it!
This project is a combination of photo to wood transfer and font to wood transfer. Plus some painting.
I apologize in advance for not having photos of the whole process!
I started with a plain piece of wood from the craft section at Wal Mart. I painted it white with craft paint and sanded the edges a little to wear it down.
Next,
I found this cute image at The Graphics Fairy
, saved it to a USB stick and took it to Office Max to have it printed.
Follow the directions at Photojojo to transfer the picture to the wood.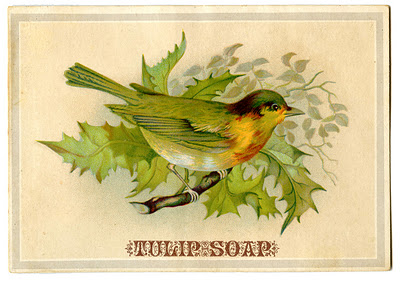 For this step you need:
Laser printed photo (hence the trip to Office Max)

Matte gel medium (I found this on Amazon, my craft store didn't carry it)

Mod Podge
Print it out in the size you need for your project.
Turn the paper over and color over the area you want to transfer to the wood with a lead pencil. I wanted to paint the letters, so I simply traced the font. Hold the paper up to the window if you have trouble seeing the print.
Flip it back over again so you're looking at the printed side. Tape the paper to your wood piece and use a pen or pencil to outline the font again from printed side. Check after a letter or two to make sure your transfer is working.
When you're finished, remove the paper and the tape carefully.
Pick out some lovely craft paint and use a small brush to paint in the letters.
I think this little guy is going to hang in my bathroom.
I'll share it hanging on the wall once I've finished organizing it.
There are so many cool graphics at the The Graphics Fairy! Look around on the site and see what inspires you!
This post is partying at...
If you liked this project, check out my Beach Access font transfer board I made for my bathroom! It's actually a Christmas decoration disguised as beachy bathroom decor, shh!