I picked up an ugly little plastic, kids patio chair last summer for free. We're really lucky to have a fantastic Airman's Attic on Hickam AFB here on Oahu, which is where I got it. Picking up free junk from here and transforming it into awesomeness is a favorite past time of many military moms here on the island.
For a whole year I've been looking at this ugly little guy. I think it actually was getting worse in the end. Toys get so sun damaged and molded here in Hawaii that it doesn't take long before you're ready to toss 'em. Which is probably how this one ended up at the Airman's Attic.
I started reading about spray painting plastic last week

. I'm looking into painting Mr. C's cozy coupe and the kids Step 2 cottage. I wanted to give it a try on something I didn't care about as much, and cost a lot less though.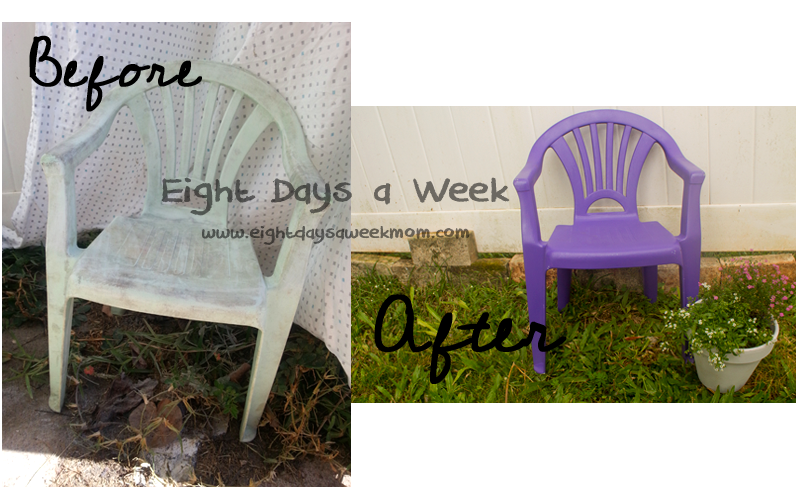 So here it is. Ugly, sun faded, moldy, kids chair got a makeover!
In purple!
Not bad right? I'm pretty proud of it. I gave it two coats, plus a clear coat that supposedly protects from UV rays. We'll see.
Seems to be holding up pretty well, but the first time I set it out Miss M threw it across the lanai and some of the paint on the arms scraped off. Other than that though I'm lovin it!
Much better, non?
Ever spray painted a plastic toy? How did it work out for you?